Family Background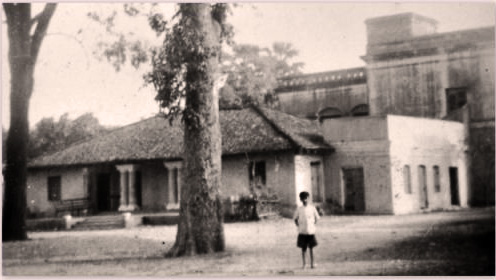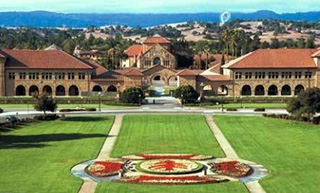 Amitava Mukherjee comes from one of the oldest and most respectable families of Hazaribagh. He belongs to a family of well-known public figures of lawyers, jurists, scholars, philanthropists and educationists. Their ancestral house has hosted distinguished public figures like Sri Romananda Chattopadhaya, Sri Sanjeeb Chattopadhaya (of Palamau fame), Lord Northbrook (Viceroy of India), Sri Subodh Ghosh, Sri Balai Chand Mukhopadhaya ("Bonophool"), Sri Bibhuti Bhusan Mukhopadhaya, Rabindra Nath Tagore himself and his daughter Indira Devi, Dr. Amiya Kumar Chakravaty (poet and Secretary to Tagore), Subhas Chandra Bose, Sri Prabhat Kumar Mukhopadhaya ("Rabindra Jibonikar"), Sri Monmotha Nath Roy and Sri K. B. Sahay.
Married to the late Dr. Neela Mukherjee, a distinguished development expert. They are blessed with a wonderful son, Taponeel (Hakka), a good human being. The family is a keen bird watcher and animal lover. They are a great connoisseur of Indian Music, especially light classical, Ghazals and Rabindra Sangeet. Over the past few years, noted singers like Shama Rahman from Bangladesh, Kamalini Mukherji, Aditi Gupta, Alak Roy Chowdhury, Rajosree Bhattacharjee, Aniruddha Sinha and Prabuddha Raha of Kolkata, and Manoj Murali Nair and Manisha Nair of Shanti Niketan have regularly performed at their residence in Hazaribagh and New Delhi.
With late Dr. Neela Mukherjee helped communities belonging to Lodha Tribe in East Midnapore, West Bengal, India to start 12 free primary schools called Saal Piyali schools for educating children belonging to the Lodha Tribe, without any donation from any donor whatsoever and without any support from the Government except in accessing mid-day meal scheme in some of the schools. They have created a corpus [out of their earning from a Private Limited Company (Development Tracks in Research Training and Consultancy), for the Schools which is invested in commodity trading by the community members to earn resources to run the schools.
Education and Studies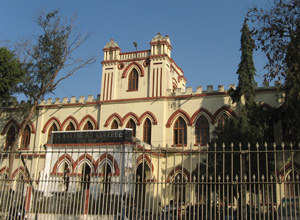 Dr. Amitava Mukherjee has a first class academic record, educated at the Ranchi University(India). Higher studies commenced at Rice University, Houston(U.S.) and the University of South Florida, Tampa (US). He held visiting appointments at Stanford University in its Department of Public Policy for Graduate School of Business and the Department of Economics, School of Oriental and African Studies, University of London, and at the London School of Economics and Political Science.
Current Position
Dr. Amitava Mukherjee, is the erstwhile Senior Adviser, Government of India, in the Ministry of Rural Development,NRLM, New Delhi.
He is presently also the Executive Director, Development Tracks RTC, a knowledge enterprise in Delhi.
Recent Position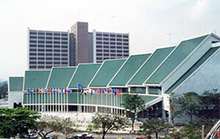 He was the Senior Expert, Macro Economic Policy and Development Division, United Nations, Economic and Social Commission for Asia and the Pacific, Bangkok (UNESCAP). Prior to this he was the Head, United Nations Asian and Pacific Centre for Agricultural Engineering and Machinery, in Beijing and the United Nations Centre for Poverty Alleviation, Bogor, Indonesia
Key Developmental Experience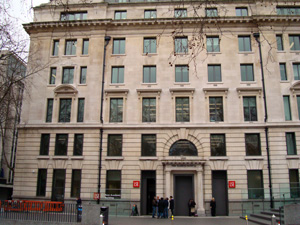 Over 35 years' experience in development especially in areas of poverty alleviation and hunger, livelihood development, institutional development, participatory project implementation, monitoring and evaluation and capacity building
He was Executive Director, Actionaid India and also in-charge of Actionaid's China programme (1995-1999). In that capacity he moved the focus of Actionaid's India Programme (at that time 25 per cent of Actionaid's programme worldwide) from empowerment approach to Rights Based Approach which led to a change in the approach of Actionaid worldwide. As a practical application of the rights based approach, he started the Right to Food campaign of Actionaid International in Addis Ababa in Ethiopia following the World Food Summit in 1996 in Rome
He was Regional Advisor for Poverty Reduction, United Nations, Economic and Social Commission for Asia and the Pacific, Bangkok (from June 2004 till 31 December 2007). In that capacity he has worked in Bangladesh, India, Mongolia, Pakistan, Nepal, Sri Lanka, China, Lao PDR, Cambodia, Vietnam, DPRK, The Philippines, Timor Leste and several countries in Central Asia like Armenia, Azerbaijan, Georgia, Kazakhstan, Kyrgyzstan, and Tajikistan. He has also worked in a few African countries and has worked at ground level on development issues confronting Azerbaijan, Uzbekistan and Kazakhstan, especially on community based evaluation of community development programmes and "Voices of the People". He has advised non-governmental organisations as well as governments on designing, evaluation and monitoring of poverty reduction programmes, institution building and development of pro-poor partnerships between the government, private sector and civil society organisations
He held the post of Chief Technical Advisor, Public-Private Partnership, United Nations, Economic and Social Commission for Asia and the Pacific, Bangkok form June 2003 to June 2004 in which capacity he co-ordinated the establishment of four companies in Indonesia, Pakistan, Sri Lanka and Thailand, on providing to the poor people electricity from mini-hydro plant, environmental goods from bio-diversity conservation, water and anti-retroviral drugs to PLWAs respectively through the Public-Private Partnership Mode . He was also a master to trainers for UNESCAP in 2003
He has been a development banker for over twelve years till 1989; Advisor and Project Head of the Planning Commission of India Project on decentralised planning; consultant to international agencies like UNDP, FAO Rome, DFID Government of UK, CARE; Executive Director, Action Aid India and In-Charge of its China Programme; Principal Expert on the research on Food Safety of the Imperial College of Science, Technology and Medicine, University of London
Being Chairperson of the South Asian Caucus of NGOs, he was one of the spokespersons for the NGOs at the World Summit for Social Development, Copenhagen, 1995 and at the World Food Summit in November 1996 as well as at their preparatory Committee Meetings at the U.N., New-York and at FAO, Rome respectively
He was a key organiser of NGOs from South Asia at the Micro-credit Summit in February 1997 in Washington, as a follow up of which he facilitated the setting of a network of Micro-finance Institutions in India
Key Academic Experience
Dr. Amitava Mukherjee held the Chair in:
Economics and Planning, and Co-ordinated the Faculty, in the Centre for Micro-Planning and Regional Studies at the Lal Bahadur Shastri National Academy of Administration, Mussoorie, India between June 1989 until January 1994
He held Joint Visiting Appointment at the Department of Economics and Department of Public Policy Graduate School of Business, Stanford University (U.S.) (1991)
Visiting Academician to the School of Oriental and African Studies, University of London (1992) and to the London School of Economics and Political Science (1993)
Institution Building
Dr. Mukherjee has been instrumental in setting up of several institutions:
He operationalized the Centre for Micro-Planning and Regional Studies, at the National Academy of Administration Mussoorie and did the foundational work for the Lal Bahadur Shastri National Resource Centre for Study in Co-operation and Rural Development, Mussoorie, India
He set up PRAXIS, being its first secretary, the internationally recognised institute for Participatory Research, Patna, India which is doing pioneering work in fostering participatory development
He was instrumental in setting up Action Aid India Society, New Delhi to move Action Aid India from an euro-centric funded organisation to a primarily Indian Funded organization
He was instrumental in setting up SABHA, Bangalore, an institution for supporting rural artisans in India through better marketing and technical support. This had helped the rural artisan to get a fair price for their product and eliminate the rent-seeking intermediaries and at once make their product competitive and contemporary
Books-For Change, Bangalore has also received his strong support, to publish grey material which are critical for dissemination of good practices and "minority views" that would otherwise not be published by commercial publishers
He was one of the founders of Partners In Change, an institution for promoting good Corporate Social Responsibility, New-Delhi. Our University: London School of Economics, London, UK
He was one of the key persons to facilitate setting up SANMFI, Dhaka, a net work of MFIs focussed on South Asia
the late Dr. Neela Mukherjee and he helped communities belonging to Lodha Tribe in East Midnapore, West Bengal, India to start 12 primary schools called Saal Piyali schools for educating children belonging to the Lodha Tribe, without any donation from any donor whatsoever and without any support from the Government except in accessing mid-day meal scheme in some of the schools. They have created a corpus [out of their earning from a Private Limited Company (Development Tracks in Research Training and Consultancy) they own], for the Schools which is invested in commodity trading by the community members to earn resources to run the schools
Awards and Honours
He is the recipient of several awards and honours: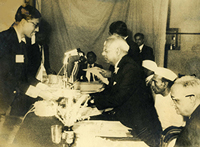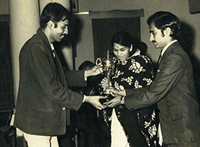 Bihar Governor's Cup for the Best Scholar (1971)
Vivekananda Centenary Gold Medal (1972)
Hem Nalini De Memorial Gold Medal (1973)
Rotary Foundation International Fellowship (1977)
Henry Lee Fellowship (1979)
Commonwealth Award (1993), which has enabled him to study, research and lecture extensively in different parts of the world.
Was made an Honorary Citizen, Huain County, China in recognition of his services to rural development in China
Membership of Professional Bodies
Dr. Mukherjee is a life member of several professional bodies including the:
Indian Economic Association
The Indian Econometric Society
Regional Science Association of India
The Indian Labour Economics Association
The Royal Economic Society, England
Books and Publications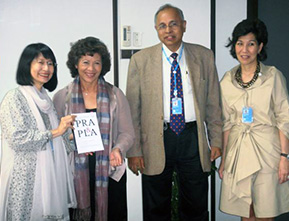 Dr. Mukherjee has written and lectured extensively on poverty, food security, and participatory community development both in India and abroad and has published a large number of professional reports, articles, white papers and over thirty five books.
A few of his latest publications are:
Hunger: Theory, Perspectives and Reality (London: Kings College, University of London and Aldershot, Sydney etc: Ashgate) 2004
A Future within Reach (Co-contributor), Reshaping institutions in a region of disparities to meet the Millennium Development Goals (New York: United Nations) 2005
Voices of the Poor (Yerevan: UNDP, Armenia) 2007
Towards Sustainable Agriculture and Food Security in Asia-pacific, Bangkok, United Nations 2009 (Team Leader and Lead Author)
Food Security in Asia (New Delhi, Sage Publications) August 2012